All Seasons Holiday Park – Rotorua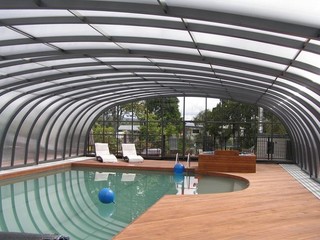 "The pool has worked a treat with increased customers, and customers staying longer."
With a year now gone since you installed our Pool Enclosure we thought it high time to contact you to thank you for your service.
The pool has worked a treat with increased customers, and customers staying longer. The comfort of natural heating ie no wind chill, has been a big factor in this coupled with the fact that we can now heat the pool at an economic cost all year round.
I must admit that when we signed up for the Enclosure our hearts were in our mouth. We parted with a sizable deposit to someone we did not know in the middle of the recession, however we also have to compliment you on the way the transaction was handle at your end:
We were kept fully informed as to the progress including the date it left the overseas factory.
You kept us informed as to the likely arrival date and were 100% accurate.
On arrival to NZ, the Enclosure was delivered immediately and promptly built to an excellent standard.
We have to say this was one of the few projects we undertook in upgrading All Seasons Holiday Park – Rotorua that went without a hitch. Many thanks from us as owners.
Owners, All Seasons Holiday Park – Rotorua