Cynthia and Anne Wensley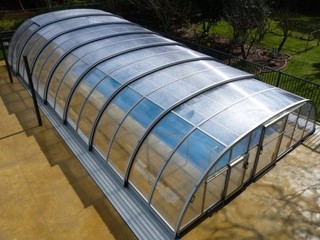 "The end result has been 100% worth it – many thanks for a good job well done."
I have been meaning to write for ages to let you know how very happy we all are with the pool enclosure over Mum's pool. We have been swimming constantly now since it was installed in mid August and have notched up a few pool parties also! It has, without any doubt, changed the way we all use the pool and definitely extended the amount of use the pool gets. Most importantly, Mum who is as you know nearly 82 is now swimming every day which is really fantastic. She especially loves that it is lovely and warm inside the enclosure when she is getting in and drying off after her swim, even if it is nippy or windy outside.
We both love the beautiful environment it creates inside - sometimes Mum and I sit inside it and chat just because it is a lovely place to be! On a rainy day it is magical and on the cold spring days it was fantastic to be able to walk inside and instantly feel like we were on a tropical island – it really is very special. Now that we are into summer we have noted that it also provides UV protection while swimming and that is a real plus. Being able to sit out of the breeze or sun while watching the girls swimming is also really comfortable and being able to open up different segments depending on the outside conditions is really handy. Mum (wonky hip and all) is managing these no problem at all (as you said!).
On behalf of Mum and myself thank you very much for the time spent planning the design and working out what was best for Mum's specific needs. Once it was ordered we both appreciated the progress reports and the installation was well organised and trouble free. The end result has been 100% worth it – many thanks for a good job well done.
Cynthia and Anne Wensley