Peter & Marion, Auckland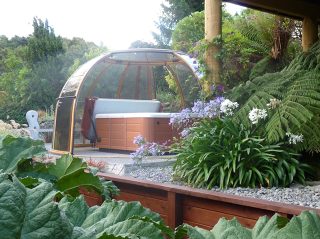 "Our spa is used daily, the dome keeps dust and insects out, spa temperature is retained longer and when it's wet outside our robes and towels stay dry."
We deliberated for over 2 years whether or not to buy a spa due to the ever-changing New Zealand weather, our fears were that if we bought one it would be under utilized and become a 'white elephant'.
We were introduced to your attractive dome spa enclosures at a garden show and immediately recognised that you offered a complete solution to our spa dilemma.
It took us a week to construct a deck and two days later you helped erect the dome – fantastic customer service!
Our spa is used daily, the dome keeps dust and insects out, spa temperature is retained longer and when it's wet outside our robes and towels stay dry. We have installed lighting, radio/CD/tape player and have scented candles for that special ambience. Planting and outside lighting make the enclosure look as though its always been there and we are justifiably delighted with the result.
You and your fantastic products we highly recommend.
Thank you.
Yours sincerely,
Peter and Marion, Auckland